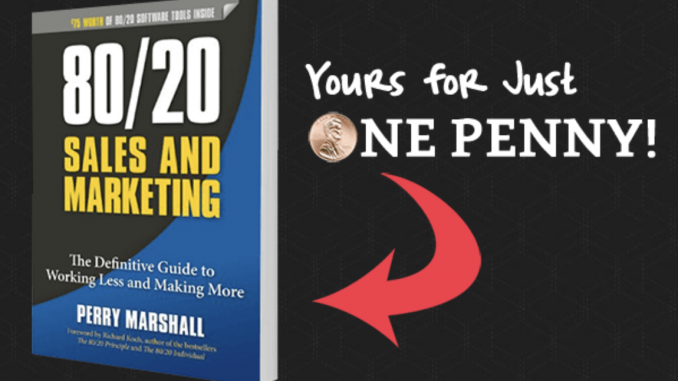 RE: This book is an absolute MUST READ for any entrepreneur to gain the clarity & results amplifying strategies you can implement RIGHT AWAY!
Perry Marshall's book "80/20 Sales & Marketing" is a true game changer that many well known leaders are RAVING ABOUT and you can buy it NOW for ONLY 1 penny plus shipping. Instead of paying $22 in the bookstore or $18 on Amazon, you basically get it for 7 bucks including shipping.
This is not just another marketing book by the way. The guy who famously cracked the code on Google advertising insists that the 80/20 rule – the adage that 20% of your effort produces 80% of your income – is really the #1 secret to everything. Then he unpacks it like you've never seen before anywhere.
I can attest, he takes 80/20 to a level no one else has ever taken it. And can also share that from immediately taking action on some exercises he includes in this book, it gave me a level of clarity and knowing that I had been seeking, which after implementing has produced SIGNIFICANT results for my business. The ROI this book has produced is OFF THE CHARTS.
You should read this book & more importantly TAKE ACTION that it clearly lays out for you. Get it for 1 penny here:
Perry Marshall's "80/20 Sales & Marketing" Book
Dan Kennedy says, "If you don't know who Perry is – unforgivable. Perry is an honest man in a field rife with charlatans."
E-Myth author Michael Gerber says, "You're in for one of those explosive moments when an interesting notion becomes a momentous epiphany because Perry Marshall is about to blow your mind!"
Perry's new "80/20 Sales & Marketing" is a groundbreaking work, offering immediate tangible insights to *exactly* where you are leaving money on the table. It will embolden you to sell more products at higher prices and satisfy the cravings of your best customers.
It is one of the most important marketing books this decade.
Get it here now for 1 cent:
Perry Marshall's "80 20 Sales & Marketing" Book
Make Today Great!
Tom Beal
PS – You deserve to learn how to work less and earn more by embracing the Pareto principle (80/20) strategies outlined for you in the most powerful business book released to date. Wish I could be there to witness the Aha moments when you see how and what can dramatically grow your results. Take advantage of the generous offer Perry Marshall has given you NOW while it lasts at: http://mustget.us/8020