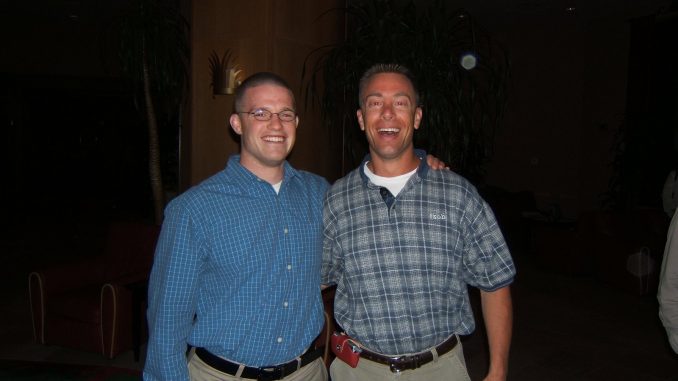 [Memory Lane | History In Making] From 1st Stage Presentation of Roughly ZERO (Late 2005 Pic) to $3.2 Million in 90 Minutes (Feb 2018) => http://mustget.us/10x
This was a photo of Russell Brunson and I after his FIRST stage presentation in late 2005 at Mike Filsaime's 1st live event; TIMME – The Internet Marketing Main Event, in Phoenix, AZ, pre iPhone (Note the Treo strapped to my belt. Remember those?).
Yes, this is the very same presentation you may have heard Russell speak about where he describes trying to do it his own way breaking the normal "rules" of speaking & selling from stage; and he sold roughly ZERO.
That led him down the path of mastering how to speak & close on stage for the years to come and that he has done. For example…
Fast forward to a few months ago in February 2018 when he sold WHOPPING $3.2 million from a 90 minute stage presentation (not too shabby, right?) and he's now sharing exactly step by step how he did it, at http://mustget.us/10x <= Russell PERSONALLY EARNED over $1 million per hour!!!
Get ready to take your sales skills AND profits through the roof!
Make Today Great!
Tom Beal
PS – Go learn more from Russell at: http://mustget.us/10x